Eaves Supper Club
19th April 2013 in The Brewery, London, Eaves events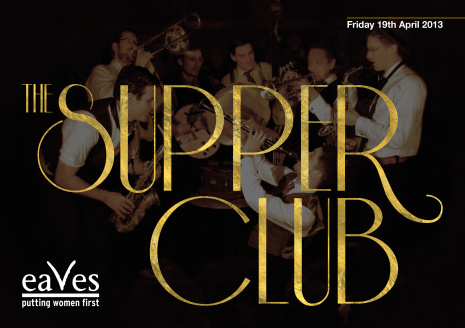 You are invited to leave the hustle, bustle and stress of the city behind and join Eaves at our Supper Club reminiscent of a speakeasy from the Prohibition era, on the 19th April 2013 to raise funds for Eaves.
Going back in time, you and your guests will be enveloped in the atmosphere of the distinctive King George III room at the The Brewery. Come and enjoy our sparkling reception, delicious bathtub cocktails and 3 course dinner, and let us entertain you with comedy, live entertainment and a full swing band to get you dancing by the end of the evening.
Special guest appearances from Kate Smurthwaite and BBC's Sara Pascoe * Learn to swing dance with a lesson taught by Swingland's Martin Ellis * Dance the night away with the big band sound of King Candy and the Sugar Push * Swing dance performance by The Attic Cats * Enjoy the 1920's sounds of Brixton Tea Party * And much more!
Fundraising Manager, Laura Bassett says…
"We are so excited to be putting on this event. It's going to be a great evening of entertainment from swing dancing lessons and music, to brilliant comedy and a delicious dinner all set in an amazing 1920s style venue. Not only will it be a great night out but everybody will go away knowing that they are helping Eaves to support women to break free from abuse."
Download the Booking Form or purchase tickets online.
Running order:
6.30pm Sparkling Reception
7:30pm 3 Course Dinner
9:15pm Auction
9:45pm Entertainment
12:30am Carriages
Venue:
The Brewery
Chiswell Street
London EC1Y 4SD
Dress:
Black Tie/1920's-40's
For booking inquires and further information please contact Rebecca Cork:
Telephone: +44 (0)20 7840 7958
Email: rebecca.cork@eavesforwomen.org.uk
Twitter: @eavescharity
Join the event on facebook.
Individual tickets £150
Low Wage tickets £99
After Dinner tickets £25
Tables of 10 from £1,450

Our success stories
3rd May 2012
Molly* says… "When I was 38, I was raped and beaten by my boyfriend. He turned my life upside down and it… read more
3rd May 2012
Maria* says… "I first came to Eaves' Scarlet Centre just before Christmas after my boyfriend's friend… read more