Donate now
Thursday 26th April 2012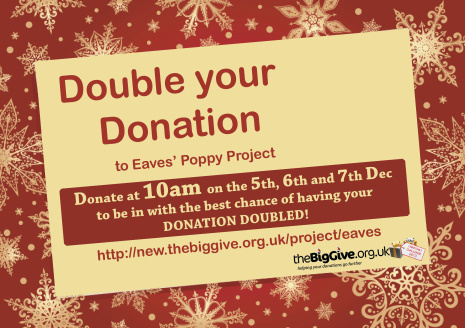 LAST

CHANCE

TO

DOUBLE

YOUR

DONATION

!

We are part of the Big Give Christmas Challenge which means that your donations can be matched. Just make sure when you try and donate that it is matched (it will be clear on the screen if it is not)

And please please please share THIS LINK with all your friends and family.

Make sure you share on facebook, twitter and email!
All your donations this Christmas will go towards our Christmas Poppy Appeal.
Find out more about where your money will go here.
If you haven't been able to get your donation matched. Click below to give to the Christmas Poppy Project Appeal.


Email fundraising@eavesforwomen.org.uk or call 020 7735 2062 for information about bank transfers or other fundraising queries.
Sending donations by post Affiliate to Eaves Donate Gifts in Kind Payroll Giving Schemes or Give As You Earn
About fundraising at Eaves
Find our more here about our team, why your donations are vital, and about respectful, legal fundraising for Eaves.
4th December 2013
Signing up to the Big Give Christmas Challenge means that we can raise a whopping £12,000 towards Eaves' P… read more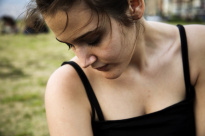 21st October 2013
We are so grateful to everyone who has supported our appeal to provide support for women wishing to exit pros… read more
Our success stories
3rd May 2012
Molly* says… "When I was 38, I was raped and beaten by my boyfriend. He turned my life upside down and it… read more