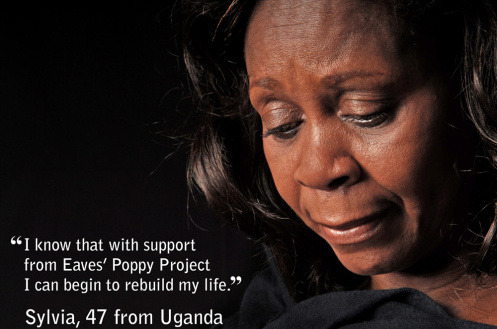 Donate now to our Christmas Appeal for Poppy Project
If you donate this Christmas, you could help trafficked women like Sylvia begin to rebuild their lives.
Just 24 will provide one specialist session of practical advice, support
or advocacy.
Donate now
Contact us
Individual and community supporters
Fundraising for Eaves does not need to be fancy, big or super creative; it just needs to raise money to help some of the most vulnerable individuals in society. The ideas are endless, from holding a bake sale, auction or a raffle, to car washing, sporting events and even sky diving.
How you can help support Eaves
Corporate supporters
Your company can have a life-changing impact on women and children who have experienced violence. There are lots of ways for your company and employees to get involved and support the work that Eaves does, and we believe that your company will also benefit from the partnership. See how some companies are supporting Eaves…
9th December 2013
This Christmas we are asking you to donate just £24 to victims of trafficking. This donation will provide a … read more
4th December 2013
Signing up to the Big Give Christmas Challenge means that we can raise a whopping £12,000 towards Eaves' P… read more
Our success stories
3rd May 2012
Molly* says… "When I was 38, I was raped and beaten by my boyfriend. He turned my life upside down and it… read more