Support us as an individual
Your donation, large or small, will make a huge difference to women who are in crisis.
We have seen a 70% increase in demand for our services in the past six months. We need your support to reach these women.
Halt the crisis and donate today.
Support us as a company
Your company can have a life-changing impact on women and children who have experienced violence. There are lots of ways for your company and employees to get involved and support the work that Eaves does, and we believe that your company will also benefit from the partnership.
Support women in crisis by partnering with Eaves.
Support us as a trust or foundation
The support we receive from charitable trusts, foundations and statutory funders has enabled Eaves to provide our services for free to the most vulnerable, disenfranchised members of society.
Our success stories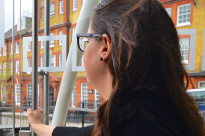 2nd September 2015
Prostitution and survival. Nina had been involved in prostitution from a very young age. She had been finding… read more